Nine styling tricks and decorating ideas to help make open-plan living work for you.
Many of us have open-plan rooms in our homes, whether it's a generous extended kitchen-dining room or a knock through living room that doubles up as a home office/kids' playroom.
Open-plan living is lovely when you're in the mood for being sociable; less so when you're flinching on Lego pieces en route to your desk or an Xbox gun fight breaks your contemplative coffee.
With no walls to hide behind, the key to creating an open-plan room that every member of the family wants to spend time in is to break the space up into smaller separate 'rooms'.
"It's called broken-plan and it's the 21st century version of the old open plan," says interior design consultant and award-winning blogger Kate Watson-Smyth whose Instagram following boasts 224,000 followers.
"It has all the benefits – the flow of light, the open spaces, the shared living - but it's about zoning one large space into small areas for different activities and moods."
These styling tricks and decorating ideas will help make your space feel calm and cozy, not cavernous; warm and welcoming, not a war zone.
1. Move your furniture away from the walls
Wherever possible avoid putting furniture around the edges of a space because it will look like a doctor's waiting room.
"You need to be quite brave and put furniture in the middle of spaces," says Kate, author of a new book Mad About the House: 101 Interior Design Answers. "Put a sofa with its back to the dining or kitchen area, so you are literally turning your back on the working parts of the your open plan space.
"Hopefully your sofa is facing a window, fireplace or perhaps a television, so you are creating a different zone."
To create an extra feeling of space choose furniture that's raised off the floor. The more floor you can see, the bigger the space appears. Go for sofas with legs and coffee tables that aren't big, solid blocks.
For smaller open-plan spaces, choose double-duty furniture. A slimline console table can be a desk and a dressing table. Folding chairs can be hung up in the hall after meals or shoved under the sofa. Extending tables can seat 10 when we finally get the chance to be sociable again but not hog the space when we're solitary working.
Open shelving is another way to break up a room, while still allowing light to come through.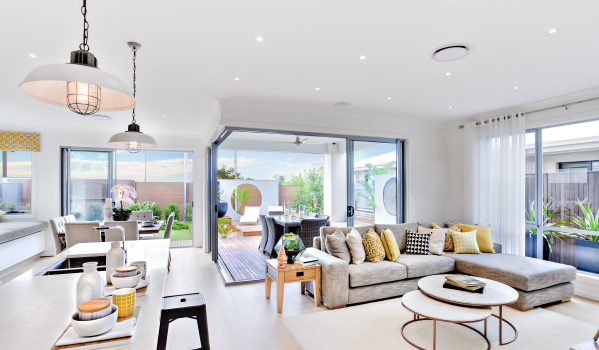 2. Use different lighting
If you're able to install lights, think about having the fixed lights on different circuits. That way if you're eating at the dining table then you can turn off the kitchen lights and not stare at the washing up.
Also, go for dimmer switches if you can – a faint glow from one corner of the room can look lovely when you don't need bright lights. A pendant light over the dining table can create an atmospheric social atmosphere, with everyone's faces lit up and the outside areas in shadow.
But you don't have to make big changes for immediate effects. Table task lights, screw-on shelf lights and standing lights can all be used to signal what different areas are for. A task light for your desk. A standing lamp to cast a warm and relaxing glow over the sofa.
View this post on Instagram
3. Rugs mark the space
If your existing flooring is the same throughout the open-plan space, adding rugs instantly demarcates the room.
By introducing a new textile – wool instead of wood, for example - you are signalling that area is different from the ones around it. Softer, cosier and more relaxed.
"Ideally in the sitting area all of the furniture would fit on the rug, so that the rug acts almost as walls, which creates a complete different area within the open plan space," says Kate. "If you can't get all of the furniture on the rug, then try and get at least the front legs on it."
A cheaper alternative to rugs may be buying a large piece of carpet and having the edges hemmed. If you're worried about rugs slipping, then a piece of underlay hidden beneath is a quick and inexpensive solution.
4. And help muffle sounds
How do you manage the acoustics in an open-plan room? When one of you is watching TV, another is clattering kitchen pans and another is humphing over school work, the different overlaying noises can be overwhelming.
The answer? Rugs again. Cushions and soft furnishings will muffle sound too. And long-term, cork is a fantastic flooring choice for absorbing sound.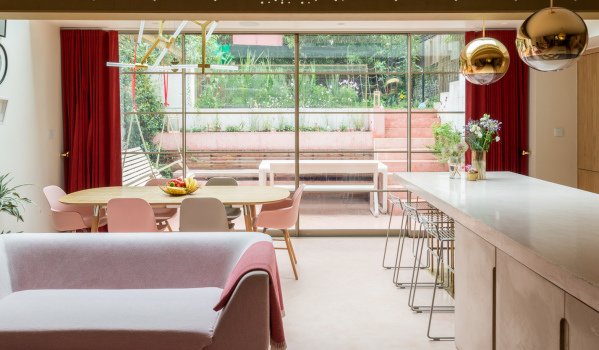 The Modern House
5. Use lines as visual cues
Placing sofas at right angles to each other, or using an L-shaped sofa with a centred coffee table creates a strong visual cue - this is a relaxed seating area. Try to align edges to create imaginary perpendicular lines and corridors within the room.
Bulkier furniture like sofas and dining tables act as the anchors for each zone. Having the back of a sofa facing into the middle of a room creates a cut-off line between living room and dining space.
Compared to most other home improvements paint is cheap, and can really help you break up a space into separate but coherent spaces.
"When it comes to choosing a palette I would say there are no rules, but there are guidelines," says Kate. She has a 60-30-10 guideline.
"Have 60% of your room one colour - that's probably your walls. Then 30% of another colour, which could be your kitchen cupboards and perhaps the sofa. Finally 10% is your accent colour, which can be quite bold and contrasting just to liven up the space."
7. Tie your windows together
Putting up curtains and blinds is another way to mark different zones but still keep a coherent feel to the whole room with similar colours or fabrics.
"Maybe try curtains that feel quite lavish in your sitting area. Then, if you have a window in your dining or kitchen area, keep two of three of the colours from the sitting area and incorporate them into practical blinds," suggests Kate.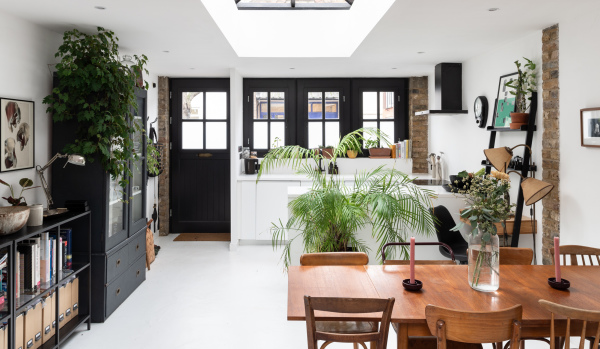 The Modern House
The least intrusive solution is to make the bottom shelf of alcove shelving your desk. The height needs to be around 73cm and you can clamp a lamp to one of the upper shelves for focused lighting.
When you're not working, you need to be able to switch off fully without your laptop sitting there as a reproach. At the end of your working day, put your laptop and notes away in a drawer or box and switch the mood with a vase of flowers or a tray of ornaments.
9. Cut or store your clutter
In an open-plan space you have to be ruthless at either getting rid of stuff or having a specific storage place for it.
A kitchen sideboard peninsula creates a physical break in the floor area, allows the cook to look over the whole space and provides plenty of storage space which isn't visible from the rest of the room.
Why not have a separate, aesthetically pleasing box for each member of the family? That way you can shift half-done homework or laptops away before relaxing time.
You may also be interested in...
Zooplomas are our free guides to buying, selling and renting, giving you expert advice and information straight to your inbox.