The couple enjoying life on the water in a two-storey houseboat on the River Thames.
Gregg Wright and his wife Christine are renting a two-storey, two-bedroom houseboat on the River Thames, near Kingston Upon Thames.
They spotted it on Zoopla – and are now in love with life on the water.
Greg, who is in his late fifties, is a specialist in mental health and Christine is a project manager who's also in her late fifties. The couple also own a family home in the lush countryside between Dublin and Galway in Ireland, which they rent out.
Can you describe your home for us?
Since February we've been renting a modern houseboat – more properly known as a yacht-house, as it doesn't actually have a motor – at Panther Quay, at Old Bridge Street in Hampton Wick, next to Kingston Bridge.
One of three at the quay, it's set over two storeys with nearly 1,500 sq ft of internal living space.
On the top floor, there's a large open-plan kitchen-diner with wooden floors and bi-fold doors leading onto a huge entertaining deck. On the lower floor, there's a reception space and a master bedroom with wraparound river views and a marble en-suite. The second bedroom also has an en-suite, and there is heating and air-con throughout.
Who do you share your home with?
My wife Christine and our cat Snoots. She looks a bit like a black panther, so we thought that was fitting. She loves to sit in her cat puzzle tree and look out over the river.
We have put a bit of netting around the deck, though, so she can't be tempted to jump in the water. She's a rescue cat and 15 years old now – but thinks she's still a kitten.
How did you end up on renting such an unusual home?
We are not boating types at all. We built our own home in Ireland, which has 6,500 sq ft of living space and sits in nine acres of agricultural land – my wife used to breed Norwegian Fjord horses there.
But both Christine and I have work in London so we were renting a home in North Sheen for a while, and then a larger house in Richmond when our daughter came to live with us briefly.
We decided to downsize to rent a smaller place, but it was proving impossible to find anywhere as properties were being snapped up so quickly.
We had no intention of looking at a home on the water, but then Christine spotted this one online and we thought we should view it.
How much do you pay each month in rent?
We pay about £2,150, which feels like good value for what we get for our money.
Riverhomes.co.uk
Did you immediately fall in love with it?
Yes. It is the outer barge of the three, so in the best spot, and has fabulous high ceilings. It's filled with natural light, plus the picture windows offer wonderful river views.
We don't feel that we are missing out on anything that a conventional home would offer.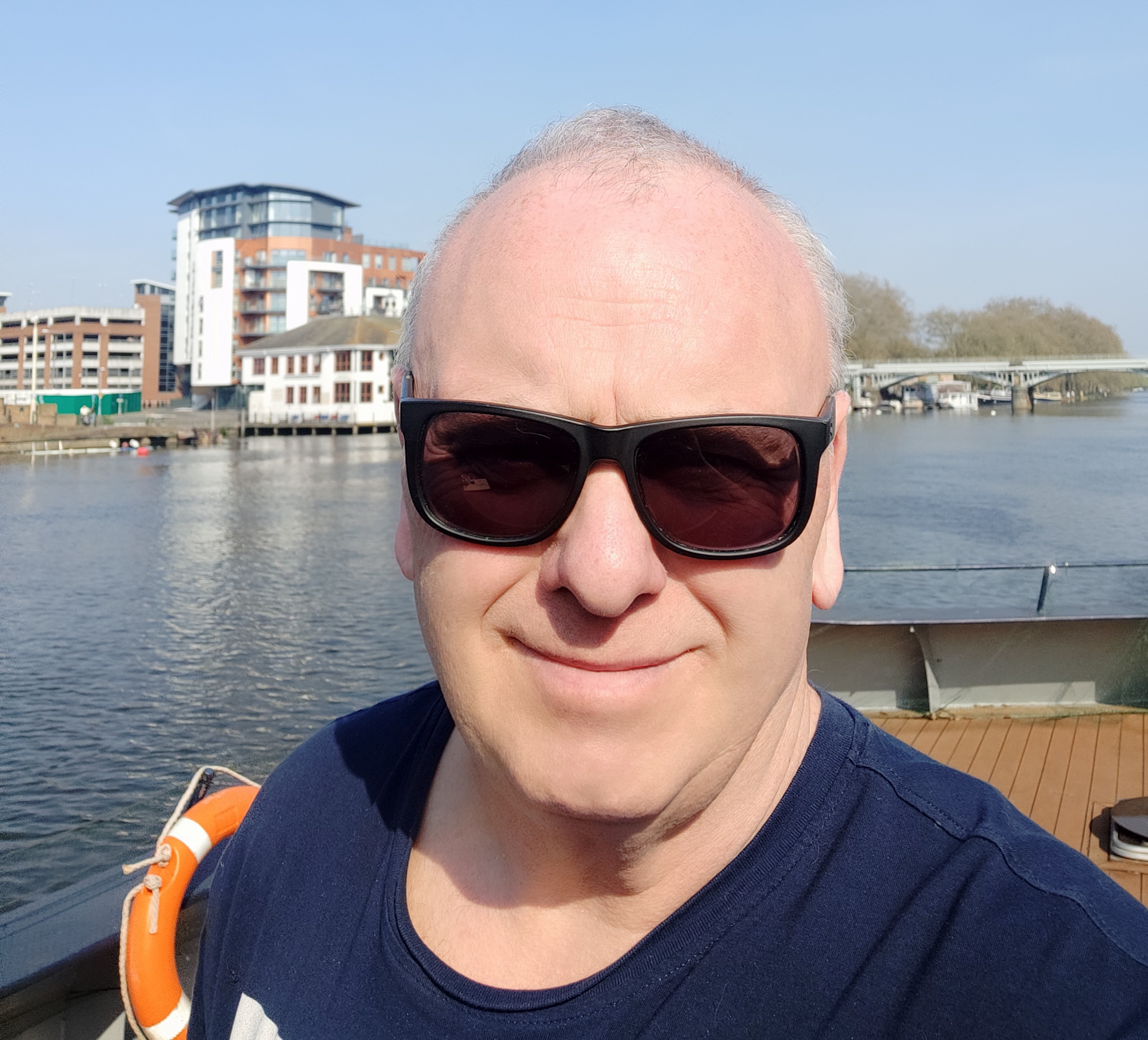 What else do you like about the location?
Hampton Wick station is a short walk away, and the shopping in Kingston Upon Thames is brilliant, as good as it is in central London.
I find it very friendly round here, too. When I am on my riverside runs to Hampton Court, I find people always make eye contact and smile. And my two neighbours are lovely, it's a great little community - although we're having to keep our distance at the moment during the coronavirus.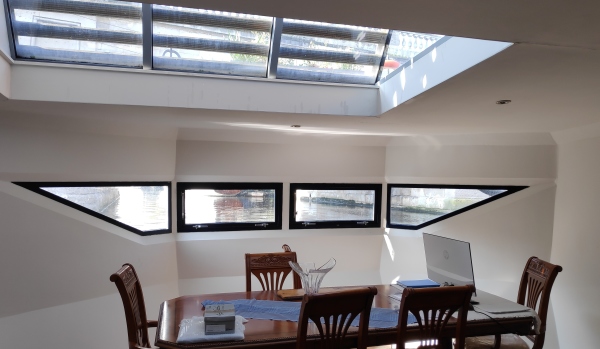 How have you made it feel like your own?
The place isn't let furnished, so we have brought all our own stuff. It works very well actually, as our last house was also a large two-bedder. Everything is painted white, which we like, but we have yet to put up our own pictures, of family, friends and various much-loved animals.
We've got a small table and chairs up on the deck at the moment, but come summer we will be planting flowers in pots and stringing up lights.
Are there any pieces of furniture you couldn't live without?
Yes, I am particularly attached to our huge oak dining-room table, which seats 12 people when extended, and a dresser with glass shelves (which was a total nightmare to get down the curved stairs to the lower deck). We've had them both for years.
Do you plan to stay put or will you be moving on?
We will certainly be here for 18 months or so. Our house in Ireland is rented out to a couple who have told us they would like to stay there for 10 years.
Riverhomes.co.uk
Have you found any drawbacks to living on the water?
No, not really. Unless you count the fact that it doesn't have a motor, so you can't go actually go anywhere.
It really does have everything we need, including a brilliantly equipped kitchen.
However, when we first moved in, there were a couple of storms, and you could really feel the water lash the sides of the boat. But normally you can't feel any movement at all. It's just so peaceful, just us and the swans, ducks and geese.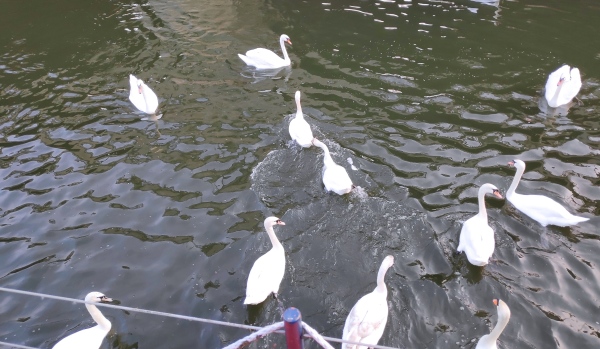 Hampton Wick forms part of the London Borough of Richmond Upon Thames. Just 13 miles from central London and a short walk from neighbouring Kingston Upon Thames, this riverside area is a commuter hot spot, with the green lungs of 1,099-acre, deer-filled Bushy Park and Hampton Court Park on its doorstep.
From Hampton Wick station, trains reach London Waterloo in about 35 minutes.
Although Hampton Wick has its own schools, shops and pubs, central Kingston is a top retail destination, with department stores and a huge shopping centre, as well as a 15-screen Odeon, the Rose Theatre and a buzzing riverside restaurant scene.
Kingston University is known for its pharmacy, journalism, fashion and design courses.
You may also be interested in...
Zooplomas are our free guides to buying and renting a home, giving you expert advice and information straight to your inbox.