Step-by-step advice on how to seal the deal once you've found your ideal home to rent.

Searching for a home to rent can sometimes feel like a stressful second job. Every spare moment you're online scrolling through what's available and viewing potential homes in the evenings and weekends, all while your move deadline looms ever closer.
So, when you find somewhere that feels right, you're understandably keen to make it your home.
This step-by-step guide will help you seal the best deal.
1. Know the market
Research the asking rent for similar sized properties in the area and how quickly they are being snapped up. This is where Zoopla's tools can really help you in your search.
2. Move fast if you have to
Once you've done your research and viewed a few properties you'll have a good sense of how speedily you'll need to act. If people are queueing outside the door while you're viewing, or if you keep finding properties have gone by the time you make an offer, it's a sign you need to step on it.
In these circumstances you may need to make an asking price offer during a rental viewing, on the proviso it is taken off the market immediately.
A landlord doesn't have to accept your offer, no matter how generous it is. They may value a trouble-free tenant who pays on time and keeps the place in good condition, more highly. Down the line they'll want to see references and proof of earnings but first impressions also make a difference. Be punctual and polite, whether you're meeting the agent or owner. The owner will have the final say (unless they've instructed the agent to make a decision), but it never hurts to be in the agent's good books too.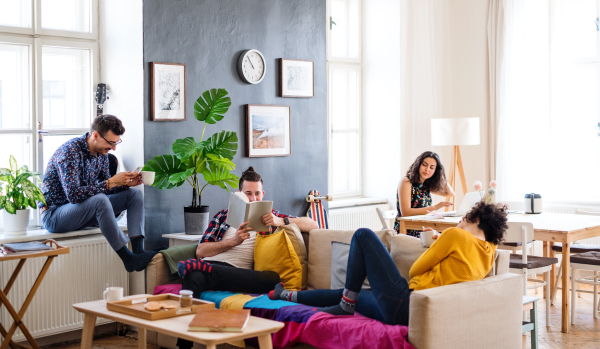 4. Negotiate
If the market isn't moving quickly, you may be able to haggle. If the property has been available for more than a month or could do with a new coat of paint, you can add these to your negotiating armoury. Be specific about the rent you're willing to pay – for example state you'll pay £750 a month for a home that's on the market for £800 – rather than simply asking to pay less.
5. Stick to your budget
In the heat of the moment, for a home you've fallen in love with, it's tempting to stretch yourself too far. If your earnings don't sufficiently cover your rent this will trip you up later in the process – financial checks usually require rent to be no more than 35% of your gross monthly income.
6. Come armed with a guarantor
There may be a good reason you can't prove your earnings. In that case it's a good idea to ask someone to be your guarantor (usually a parent) – that means they'll cover the rent if you're unable to. Mentioning this when you make an offer could swing the landlord your way.
7. Consider paying up front
Landlords love guaranteed income, so if you're able and willing to pay for several months in advance they may give you a discount.
8. Reduce costs by increasing your tenancy length
As mentioned above, landlords love a guaranteed income, which means they could be tempted by a longer tenancy agreement. If you're happy to commit for two years or more the landlord will save on remarketing costs while you won't have to fork out to move. A fixed long-term rent, or at least an agreed cap on any yearly increase, gives you security and protects you from large increases if the market heats up.
9. Get your dates in a row
Working with dates that suit the landlord will also play in your favour. Perhaps they'll need to move back in at some point – find out when that is and, if reasonable, agree to end the tenancy then. Or offer to leave at a busy time of year (usually the summer), so they can find a replacement more easily.
And the sooner you can move in after the previous tenant has left the better – an empty property is an expensive one for a landlord.
10. Keep up with the clauses
You're unlikely to be able to change your rental contract once it's signed so make sure anything you really want in it, such as a break clause which allows you to leave early if you're not happy, is included.
Equally now is the time to agree, and get down in writing, any improvements that you want made to the property before you move in.
11. Honesty is the best policy
Like all relationships the best landlord-tenant ones rely on openness and trust. It works both ways, your landlord shouldn't promise to fix something tomorrow and turn up next week and you shouldn't hide how you're using the property.
If you've got a pet or children, mention them at the start – you may be able to convince someone the kids' toys are yours, but the dog basket is a real giveaway.
You may also be interested in...